Embracing the Power of 360 Views: Enhancing Property Sales in the Ricote Valley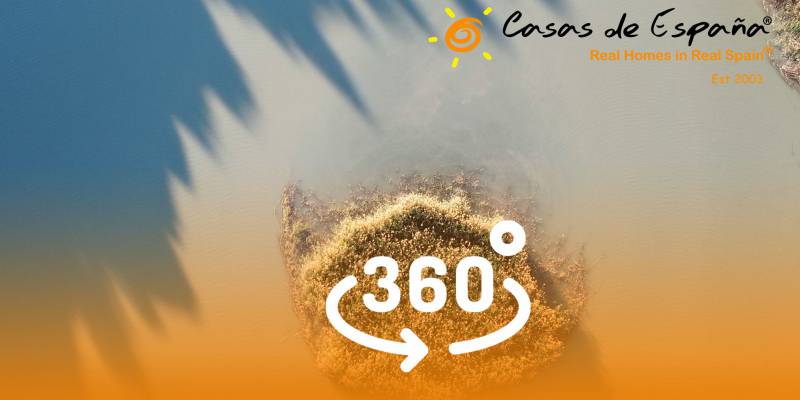 17 May 2023
In today's digital era, Real Homes in Real Spain has witnessed a significant shift in marketing strategies. One of the most innovative and impactful tools that have emerged is the use of 360 views for showcasing properties. This technology allows potential buyers to immerse themselves in a virtual tour of a property, providing a comprehensive and realistic experience. For potential clients interested in buying in our wonderful Ricote Valley, adopting 360 views can offer numerous benefits, revolutionizing the way properties are sold and maximizing their market potential.
1. Unparalleled Virtual Experience
360 views provide potential buyers with an immersive virtual experience that is second only to physically visiting the property. By offering a complete view of every room, the surrounding landscape, and even the neighborhood, this technology eliminates the limitations of static images and allows viewers to feel like they are truly present in the property. In the context of the captivating Ricote Valley, where the natural beauty is a key selling point, 360 views can transport potential buyers directly into the heart of the valley, leaving a lasting impression and increasing the likelihood of a sale.
2. Time and Cost Efficiency
For both us and buyers, 360 views save precious time and resources. Traditionally, buyers would need to physically visit multiple properties to evaluate their suitability, which can be a time-consuming and exhausting process. With 360 views, potential buyers can tour properties remotely, eliminating the need for unnecessary visits and reducing the overall time investment. By allowing buyers to pre-screen properties online, the technology streamlines the sales process, ensuring that only genuinely interested buyers arrange physical viewings. Moreover, the properties might be located in remote or secluded areas, 360 views can eliminate the need for lengthy travel, making the buying experience more accessible and convenient.
3. Enhanced Buyer Engagement
360 views provide an interactive and engaging platform for buyers to explore properties at their own pace. This technology enables users to navigate through a property and zoom in on details. Buyers can visualize the flow and layout of a property, allowing them to assess its suitability for their needs. By enabling viewers to take control of their experience, 360 views foster a sense of ownership and connection to the property, increasing engagement and the likelihood of a successful sale.
4. Improved global reach and audience expansion
The use of 360 views enhances the experience of our property listings aimed at the international market. With this capability, potential buyers from all over the world can explore with more resources and consider properties in the Ricote Valley. This technology attracts international buyers who may be looking for a unique and picturesque location such as the Ricote Valley. By eliminating geographic barriers, 360 views offer potential buyers the opportunity to reach a greater number of potential buyers and increase their chances of a successful sale.
5. Competitive Advantage
In a competitive real estate market, standing out from the crowd is essential. Incorporating 360 views into the marketing strategy for properties in the Ricote Valley provides a significant competitive advantage. By embracing this cutting-edge technology, properties can position more, capturing the attention of potential buyers and leaving a lasting impression that can lead to increased interest, viewings, and ultimately, successful sales.
Share