​Why a New Modern Villa with Casas de España in the Ricote Valley is your Dream Investment!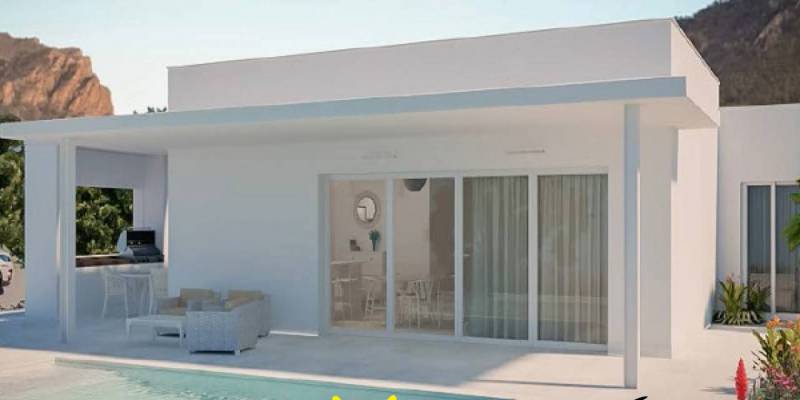 7 Sep 2023
Are you in the market for a new home that promises luxury, comfort, stunning sunshine and spectacular views? Look no further than a brand-new villa, providing 121m2 of luxurious living space, a spacious 6000m2 plot, a private garage, an American style fitted kitchen, a pristine pool, private picturesque gardens with pool and mountain views.

Today, we'll explore why investing in such a property here in the beautiful ricote valley is not just a smart move but a dream come true:
When you purchase a new villa in construction, you have the unique opportunity to witness the construction process first-hand. Quality craftsmanship ensures that every detail is meticulously attended to, resulting in a home that meets the highest standards of construction excellence. From the foundation to the finishing touches, you can rest assured that your new villa is built to last.
Another great advantage that we must not forget when buying a villa in construction is the personalization of space to reflect your style and preferences, creating a home that suits your unique needs.
Best of all, it comes equipped with modern amenities and the latest technology. With an American style fitted kitchen, you'll enjoy a spacious and open culinary space that's perfect for families and for entertaining. The inclusion of a private garage ensures convenience and security for your vehicles. Additionally, a fantastic swimming pool and a landscaped garden offer the perfect sanctuary right outside your door.
The importance of keeping electrical efficiency always in order, our newer homes are built with energy efficiency in mind. From advanced insulation to energy-efficient appliances, your new villa can help you save on utility bills while reducing your environmental footprint. This not only benefits your wallet but also contributes to a more sustainable future for you and for everyone.
Capital Appreciation: Investing in a new villa in a desirable location can lead to substantial capital appreciation over time. As the property market evolves, the value of your home is likely to increase. This makes your villa not just a smart place to live but also a wise financial investment for your future.
Bigger spaces, better views, and more value to your home. The 6,000 m2 plot around your new villa ensures privacy and a great space to enjoy the surrounding beauty. With garden and pool views, you'll wake up every morning to the tranquillity and serenity of your own perfect piece of paradise. These views not only enhance your daily life but also add to the overall value of the property.
If you are looking for tranquillity this is your place: away from city life and strife, a villa in a quiet location offers a peaceful living environment. It's the ideal place to escape from the noise, pollution and stress of urban living, allowing you to relax and rejuvenate in the lap of luxury.
In conclusion by saying that investing in a quality new villa in construction with 121 m2 square meters build size, a spacious 6,000 m2 plot, a private garage, an American style kitchen, a fabulous pool, and a breath-taking garden and pool views, for the very realistic price of only 223,000€ your decision to go ahead provides you with not just a beautiful home but also a sound financial investment.
The combination of customization, modern amenities, energy efficiency, and potential for capital appreciation makes this property a dream come true for anyone seeking a life of luxury and comfort. Contact us today to secure this unmissable offer!
Videos
Share