The Ricote Valley Spanish Gardening Experience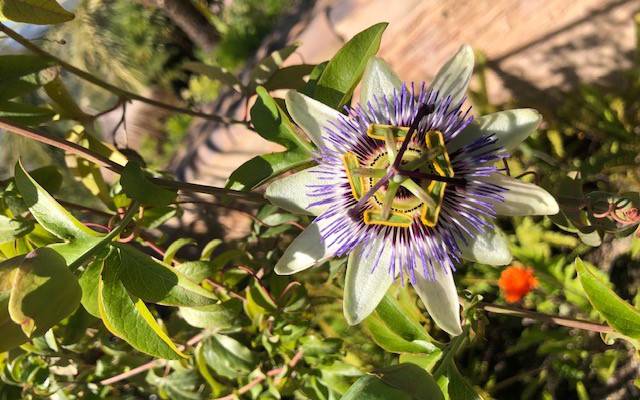 16 May 2022
Well I think we dedicated Ricote Valley gardeners deserve a huge round of applause and a big pat on the back for plodding on throughout the Sahara sand storm and the relentless recent rains, demanding of us great patience, and now the weather is glorious again, trying to tackle the jungles before us!
If like me your Ricote Valley garden is your sanctuary – whether it be a window box, a terrace, balcony, one terracotta pot or 20,000m2 plot with spanish soil – we all understand the joy of seeing new growth, little green shoots, the first flower, a fabulous organic herb to snip and cook something delicious with straight away. To enjoy the fruits of our labour is beyond measure and the disappointment when something doesn't thrive is truly crushing.
Unfortunately I can't show you our tunnel of wisteria garlands which attract bumble bees by the billion but I can show you some examples of how we manage here, our sort of garden style which hopefully may be an inspiration to you as over the years I have persisted and found the varieties that thrive best in my garden in Blanca.
Twenty years ago we took over a 50 years abandoned house and plot with nothing more than many dry old tree stumps, one massive fig tree and a few wild olive trees so it's honestly been a labour of love to grow into our garden and our garden to suit and satisfy us. Developing new areas to contemplate, new walkways to just enjoy and beautify the little necessary pathways between the buildings that we call our home here in the stunning Ricote Valley.
I have designed my garden like a great cocktail – a mixture of colour and flavours and it's still a work in progress however more time is spent pruning than planting as anyone with an established well irrigated Spanish garden's house will know only too well. Thanks to our climate and irrigation water we are only limited by our own imagination and effort.
I love to mix lavender with hibiscus, tropical green shrubs with contrasting colourful flowering ground covers, jasmine with mimosa, sweet peas, wisteria and passion flower. I just love to see the combination and contrast in colour and textures at different times of the year, bring me joy. And all to the back drop of the Sierra del Oro mountains, famous for golden sunrises and sunsets, are you picturing the image?
So let's crack on fellow green fingered folk – our paradise awaits us – do as I do, if a bit breaks off stick it straight into a pot with something else, you will be so amazed how often an accidental or deliberate cutting will absolutely fly just by sticking it directly into a pot with other plants or directly into the soil, much of my garden has evolved thanks to this totally free method.
On a final note, I think that the birds and the bees, the butterflies and all of the visible and hidden natural wild life must be thanking people like us on a daily basis for bringing life back to previously dry, long since abandoned uncultivated land plots. I see birds of every variety and many are nesting right now in the same spot as last year and the years before. Apart from our own animals, horses, chickens, turkeys, dogs and a cat…. We hear pheasants, often see partridges, ducks and herons on our "wild" irrigation lake – which is absolutely full of water lilies at this time just waiting to pop their stunning blooms up to amaze us.
Living here in the beautiful Ricote Valley at the ideal altitude to enable our tropical fruits and flowers to flourish all year around brings many advantages to our day to day lifestyle, not least of which the ability to grow everything and anything all of the year around.
So, that's all for now folks, as I mix my very demanding job with my gardening obsession hopefully my precious garden will improve year on year, and keep me sane.
Happy gardening – Ricote Valley – something for everybody
Image gallery
Share