Calling All Ricote Valley Fans - The Sunshine is back here with us!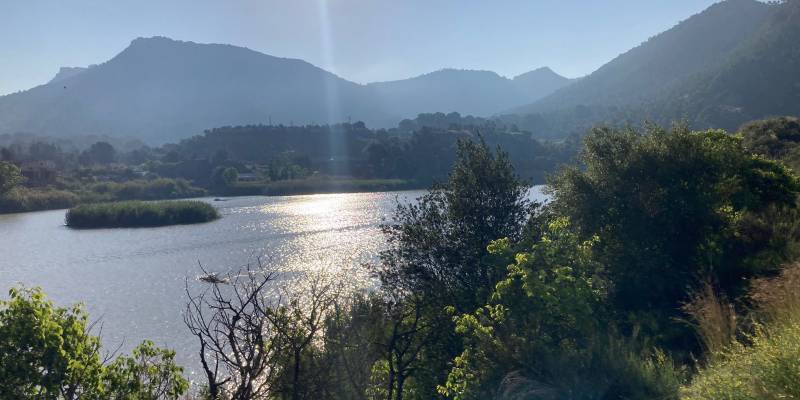 6 May 2022
Hi fellow Valley de Ricote residents, holiday makers, visitors and all of those of us who just love this scenic valley and enjoy our time here soaking up the sunshine, the views, the café culture lifestyle and in recent weeks the relentless rain!
So the clouds finally cleared and at last again we can see our beautiful blue sky, brilliant sunshine and stunning Ricote Valley mountain ranges again. The authorities have confirmed that we have experienced more continuous rainfall than in the past 80 years which has been rather extreme to say the least.
As our Ricote Valley is literally biblical with Roman architecture and still with the original Arabic waterways and irrigation canals, high volumes of rain or storm water do not affect our day to day lives in any way as the ancient rambla's take the water directly through the towns to the river Segura, then to the lake and when necessary they open the gates at the small hydro-electric dam to allow the excess water to pass which therefore prevents any risk of flooding to our towns.

Because this is an agricultural area famous for our citrus fruits, soft fruits and tropical fruits, the heavy rainfall with intermittent sunshine has impacted significantly on orchard growth and production and so hopefully our farmers can expect a very heavy and profitable yield this year. It is no wonder that we are known as the peach capital of the world – let's hope our farmers enjoy a great yield this year 2022, which the rest of the world will enjoy – we all certainly do deserve a better year after all we have been through over the last couple of years.

Apart from the wide range of fruit grown here in the amazing Ricote Valley, the daily open markets are fully stocked with locally grown produce include every imaginable vegetable, herbs, salad ranges and of course fruits of every variety. Most of the produce has been cut the very morning of the market so it is crisp, crunchy, sweet, delicious and economical as no refrigerated transport required. Cut in the mineral rich soil, put in the van, taken straight to the market and laid out ready for us to buy within the hour, more fresh, tasty and economical impossible.

As everyone knows the Mediterranean diet is one of the main reasons for our good health and long life – everything soaked in locally produced olive oil and as we are most famous for in the Murcia region – freshly squeezed lemon juice on everything. I can still remember the first time I ordered a freezing cold beer and a packet of crisps in a local bar, watching in astonishment as they opened the packet, tipped it out onto a plate, squeezed a lemon over the crisps and passed to me for my enjoyment. Well, doubtful as I was about whether or not that would work for me – let me tell you it was a taste sensation!



It's a fact that the rest of Spain do joke about us "Murcianos" squeezing lemon juice over everything, paella, fish, meat, salad and yes even crisps! Well, why wouldn't we? We have such an abundance of lemons which fruit all year round, even "Chris Stewart" the author of that famous novel "Driving over Lemons" named his book after such abundance. Having said that, he lives in another region in high altitude so whilst he must have been amazed by the all year round bounty he couldn't begin to contemplate the lemon laden trees here in our stunning Ricote Valley.

When I first moved to Blanca, someone said to me "we don't do ice with a slice in our gin and tonics here – we do ice with the squeeze of a whole lemon and as many slices as you can ram in your glass – so your gin and tonic is packed with vitamins" – good advice, which I respect to this day.

Well the sun is shining brightly, the bees are buzzing, the birds are very busy doing what they do at this time of the year and its getting very close to beer o'clock, so cheers Ricote Valley neighbours, wishing us all a fabulous weekend, stay healthy and happy and watch this space for my next ramblings, 20 years living in Ricote Valley paradise with much more still to see and do and so much to tell.
See now our fantastic properties.
Image gallery
Share